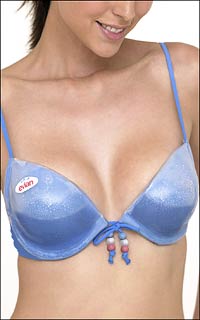 No pases mas calor en la playa, piscina o donde estes en biquini, con este nuevo biquini siempre estarás fresquita, por lo menos de cintura para arriba.
No es un bikini cualquiera, sino que en la parte inferior de los pechos lleva unas bolsas de agua mineral que hacen que dichas partes se mantengan siempre firmes y tersas.
This new bikini may look a bit weird but it's chest great for keeping cool.

Using the latest in swimwear technology, the Evian bikini boasts pockets which are filled with mineral water!

And according to boob boffins, the cold water will even help tone, firm and shape your beach body.

The bra's filter funnel means bikini babes can top up the water level at their leisure, controlling how cool they keep their boobs.

Sounds like a great way to keep cool while raising temperatures poolside!